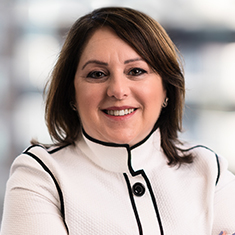 Francine Friedman Griesing is the Co-Founder of Bossible and Griesing Law, LLC, a women-owned and operated law firm. As a seasoned entrepreneur and attorney, Fran shares her expertise founding and growing successful businesses with clients from various industries.
Fran is a highly-sought speaker, writer and respected authority locally and nationally in the entrepreneurial communities. She has done numerous speaking engagements at trade organizations, conferences and events on negotiation and business leadership, marketing and branding, employment issues, business ethics and hospitality. Fran has also taught at Temple University's Fox School of Business, the University of Pennsylvania Law School, Drexel University Thomas Kline School of Law and The Wharton School of the University of Pennsylvania on a variety of topics including business law, employment law, hospitality law, intellectual property, advocacy skills, law firm management and issues impacting female attorneys.
She has been widely recognized for her accomplishments, including being awarded the National Association of Women Business Owners' Woman Business Owner of the Year, the Chamber of Commerce for Greater Philadelphia's Small Business Person of the Year, Women's Enterprise Magazine Top WBE CEOs, Philly Biz's Executives of the Year, Enterprising Women Magazine's Enterprising Women of the Year, Pennsylvania's Best 50 Women in Business, Pennsylvania's Honor Roll for Women, Philadelphia Business Journal's Women of Distinction, Business Philadelphia's Women to Watch and Smart CEO's Brava! Leader.
Fran sits on the  board of the Greater Philadelphia Chamber of Commerce and Philadelphia/South Jersey Region American Jewish Committee. In addition to her role on the Chamber board, Fran sits on the Policy Research Legislative Committee, the Diversity and Inclusion Committee and the Neighborhood Economic Growth Subcommittee of the Roadmap for Growth Advisory Committee.  Also a relentless advocate for professional women, Fran is actively involved in various local and national organizations which focus on offering professional development and leadership opportunities for women including The Forum of Executive Women, National Association of Women Business Owners and Women Owned Law, where she serves as Chair of the Advisory Board.
Fran graduated with honors from Binghamton University and the University of Pennsylvania Law School where she was an editor of the Law Review.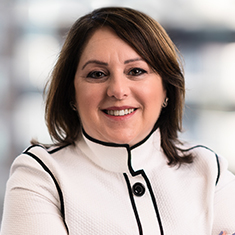 NAWBO Woman Business Owner of the Year, 2018

Awarded by the National Association of Women Business Owners (NAWBO) and Bank of America to an entrepreneur who excels at strategy, operations, finances, problem-solving, overcoming adversity and giving back to her community

Small Business Person of the Year, 2018

Awarded by The Chamber of Commerce for Greater Philadelphia to a businessman/woman who has shown exemplary leadership in the Greater Philadelphia region

Women's Enterprise Magazine Top WBE CEOs, 2017

Recognized as one of the top leaders of a women-owned business  

Philly Biz Executive of the Year, 2016

Recognized as one of 11 Professionals Moving and Shaking Philly Business

Enterprising Women Magazine Enterprising Women of the Year, 2015

Recognized as one of the top women entrepreneurs in the world

SmartCEO Brava! Awards, 2012-2013

Recognized as one of 25 local women business leaders for her irrepressible entrepreneurial spirit with a passion for giving back to the community

Received Brava! Hall of Fame Award in 2013
Philadelphia Business Journal Women of Distinction, 1998

Recognized for distinguished professional accomplishment and community contributions impacting the Greater Philadelphia region; Member of Award Advisory Committee, 1999

Pennsylvania's Best 50 Women in Business, 1996

Recognized by the Department of Commerce, the Governor's Commission for Women and Pennsylvania's five Business Journals for professional and personal accomplishments, influence, competence and advocacy in the business community

Pennsylvania Honor Roll for Women, 1996

Recognized for professional and community activities

Business Philadelphia Women to Watch, 1996

Selected as one of the region's professional women of impact who is changing the face of corporate America
"Small Business/Neighborhood Economic Growth" – Co-Presenter, The Chamber of Commerce for Greater Philadelphia, November 2017
"You're Worth It: Setting Rates, Collecting Bills and Saying No" – Presenter, Women Owned Law – Moorestown, NJ, November 2017
"Grow Well: Million-Dollar Success Stories" – Panelist, 2018 NAWBO National Women's Business Conference – Spokane, Washington, September 2018
"You're Worth It: Negotiating Employment Contracts, Asking for Promotions and Quantifying Your Value" – Speaker, Healthcare Businesswomen's Association – West Chester, PA, May 2018
"Employee Empowerment: Taking Charge of Your Career" – Speaker, Philadelphia Energy Solutions Women's Leadership Network Program, May 2018
"Legal Business Structures" – Speaker, Women's Business Development Center's FastTrac New Venture Program – Philadelphia, May 2018
"You're Worth It: Setting Rates, Collecting Bills and Saying No" – Keynote Speaker, NAWBO Greater Philadelphia Leadership Conference, April 2018
"Sexual Harassment in the Workplace: A Human Resource Roundtable" – Discussion Leader, The Chamber of Commerce for Greater Philadelphia, March 2018
"Sexual Harassment: How You Can Protect Your Company and Your Employees" – Panelist, Inside the Reporter's Notebook with the Philadelphia Business Journal, December 2017
"Small Business/Neighborhood Economic Growth" – Co-Presenter, The Chamber of Commerce for Greater Philadelphia, November 2017
 "You're Worth It: Setting Rates, Collecting Bills and Saying No" – Presenter, Women Owned Law – Moorestown, NJ, November 2017
"Grit: Secret Recipes of Successful Women Entrepreneurs" – Panelist, Women's Entrepreneurship Day – Philadelphia, November 2017
"Getting the Most Out of WBE Certification" – Speaker, Women Owned Law – Philadelphia, May 2017
"What Form of Entity Should my Business Take?" – Speaker, Women's Business Development Center's Jumpstart Your Business Series – Philadelphia, February 2017
"Women's Leadership Roundtable" – Facilitator, The Chamber of Commerce for Greater Philadelphia, November 2016
"Mentoring Event in Partnership with Clarifi" – Speaker, The Forum of Executive Women – Philadelphia, May 2016