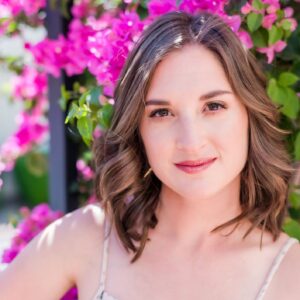 As the Co-Owner and Chief Strategy Officer at Bossible, Emily Griesing is more than your average marketer. Inspired by her mother, a trailblazing entrepreneur, Emily learned to take risks and think outside the box from a young age. Today, she crafts tailored strategies to propel entrepreneurs and organizations forward, amplifying their unique voices and positioning their offerings to stand out in a crowded market.
Emily doesn't just 'do things to do things'; she's a tactical thinker, focused on the 'why' behind every decision. As a trusted partner and unwavering champion to her clients, Emily uses her expertise and skills to take people, organizations, and brands to new heights.
Emily has an impressive track record serving start-ups, established businesses, and large nonprofits as a market researcher and strategist, offering actionable insights to navigate business challenges and seize growth opportunities. Her industry reach spans from arts and entertainment to healthcare and legal, and everything in between.
Emily is a sought-after voice on branding, marketing, and business development, penning articles and presenting workshops at industry events and trade associations. She has been recognized as Family Business Magazine's NextGens to Watch and Women's Business Enterprise Center East's (WBEC-East) Diversity, Equity & Inclusion Honor Roll. Emily graduated from Barnard College of Columbia University with a psychology degree.
Awards
Women's Business Enterprise Center East's (WBEC-East) Diversity, Equity & Inclusion Honor Roll, 2022
Awarded to WBEC-East certified Women Business Enterprises (WBEs) that have demonstrated a commitment to advancing diversity, equity, and inclusion within their company, industry, and community
Family Business Magazine NextGens to Watch, 2020
Highlighted exceptional successor-generation family members, age 35 and under, who are making a difference in their family business
LMA Annual Conference Scholarship, Metropolitan Philadelphia Chapter, Legal Marketing Association, 2017
Awarded  to deserving LMA members who have not attended the National Conference
Speaking
Writing